It has been 35 years since the Nissan Technical Centre Europe (NTCE) opened in the UK. Initially it was a small outbuilding on the company's production site in Sunderland, but after moving to a facility in Cranfield the NTCE has expanded to become one of Nissan's major global R&D facilities with 1,000 employees.
One of the focus areas at the site is autonomous driving and following the company's initial involvement in the HumanDrive and ServCity projects, the latest to use its battery-electric Leaf is EvolvAD.
With funding from the UK government through its Innovate UK agency and the Centre for Connected and Autonomous Vehicles (CCAV), the EvolvAD project is being run by a consortium of industry partners. These include Nissan, the Connected Places Catapult, Humanising Autonomy, SBD Automotive and TRL.
"We are extremely proud to be a part of the EvolvAD project in the UK, working alongside some brilliant partners to test and trial our technology further," said David Moss, senior vice president, region research and development for Nissan AMIEO (Africa, Middle East, India, Europe, and Oceania).
"Through Nissan Ambition 2030 we want to empower mobility for everyone and autonomous drive technologies are critical to this effort as they offer huge benefits in terms of vehicle safety, environmental impact and accessibility.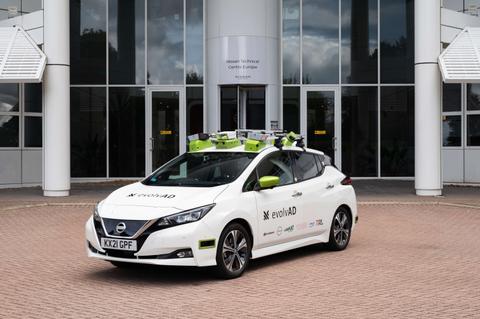 "As we celebrate 35 years of NTCE in the UK, we're excited to get going with this next project that will help ensure we continue to deliver technology of the future that truly benefits our customers."
EvolvAD will put connected and autonomous vehicles (CAV) through their paces on a variety of urban residential and rural roads. These types of roads present various challenges for autonomous driving (AD) technology such as narrow roads, single lanes with parked vehicles on either side and slow driving speeds as well as minimal road markings on rural roads.
The project began in July 2023 and over the next 21 months it will be used to support UK supply chain readiness for future deployment of AD technologies. This comprises several focus areas designed to advance the UK's autonomous drive capability including Nissan's work to trial advanced AD technology in built-up residential areas in collaboration with TRL.
The vehicles will be tested in simulation and on private test tracks before the evolvAD CAVs are put through their paces on live roads in the coming months.
"In our previous research projects, our AD team and partners have tackled highways and complex city environments," said Robert Bateman, EvolvAD project manager and manager of Nissan's Research and Advanced Engineering team at NTCE.
"Now we move onto our next challenge, built up residential streets and rural roads. To bring autonomous driving to market, we must test and trial the technology on as many different road types as possible and that's why projects like EvolvAD are so important. Ultimately, we want to make driving cleaner, safer and more inclusive for everyone and we look forward to working with our consortium partners to deliver that."
Using infrastructure such as CCTV in residential areas, the CAVs will be able to receive information to improve situational awareness, creating a test study on how vehicle-to-Infrastructure (V2I) can be used to enhance their performance. The project will also look to develop new V2I technologies to further support the deployment of AD vehicles, something the UK government is keen to see happen.
"Self-driving vehicles have the potential to transform how we get around, making journeys safer, cleaner and more accessible while also helping grow the economy by creating highly skilled jobs," said Nusrat Ghani, UK Minister for Industry and Economic Security.
"This research project will help develop this technology and show that the UK is at the cutting edge in developing automated technology that is not only innovative but, crucially, has safety at its heart."