Waymo has passed a major milestone in its self-driving research program after announcing that its vehicles have driven more than 10 million miles of public road testing.
The former Google self-driving car project, which was founded in 2009, has been driving on roads of 25 US cities in the states of California, Arizona and Michigan – all with differing road and traffic conditions and environments.
Its 10 million miles of real-world driving has also been coupled with seven billion miles driven in a virtual environment, which can recreate any scenario its cars encounter on real roads to test, refine and validate its software.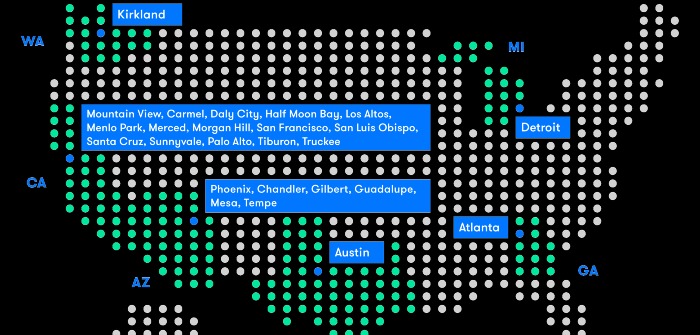 "When it comes to driving, experience is the best teacher, and that experience is even more valuable when it's varied and challenging," said John Krafcik, Waymo CEO, in a blog post.
"Thanks to nearly 10 years of experience, and keeping safety at the core of everything we do, we've been able to put the world's first fleet of fully self-driving vehicles on the road. While we've made great strides thanks to these 10 million miles, the next 10 million will focus on turning our advanced technology into a service that people will use and love."
In the online post, Krafcik details the progress being made by Waymo, where its vehicles have been operating and what the future holds for the company.
"Today, our vehicles are fully self-driving, around the clock, in a territory within the Metro Phoenix area. Now we're working to master even more driving capabilities so our vehicles can drive even more places. Our engineers and scientists are applying advanced artificial intelligence and new in-house designed sensing systems to help us navigate complex weather conditions like heavy rain and snow, which are difficult even for human drivers," said Krafcik.
The Waymo CEO explains that Waymo's engineers are programming its cars to be cautious and courteous, and are trying to find the right balance between this and being assertive in road situations such as merging into fast-flowing traffic. With safety the number one priority, Krafcik states that its cars are designed to take the safest route, even if it results in a slightly longer trip.
"Over the next 10 million miles, our journey will take even more riders to even more places, in cars that are safe, in addition to being more capable, comfortable and convenient. Building the world's most experienced driver is a mission we'll pursue for millions of miles to come, from 10 to 100 million and beyond," he concluded.