TÜV Süd and ADAC, the German automobile club, are consolidating their expertise in the approval of new vehicle types in accordance with international regulations. Their objective is to offer all homologation services from a single source. Situated near the Bavarian city of Landsberg am Lech, the test center is also part of the TÜV Süd Test Cluster Southern Germany.
ADAC is providing its test center in Penzing, Bavaria, while TÜV Süd is contributing its expertise in the areas of testing, regulations, standards, approval processes and homologation for global markets – based at its branch office in the test center. A particular focus of the center's services is the homologation of automated driving functions up to SAE Level 4.
Working with experts at the new TÜV Süd Cluster, customers can address potential obstacles in global vehicle approval at an early stage. The company says that this cuts down on development times and speeds up time-to-market and approval processes.
The approval tests are carried out directly at the test grounds. As the number and complexity of software-defined vehicles rapidly rises, there is an increasingly urgent need for a barrier-free, safe and secure interface between industry and the approval authorities.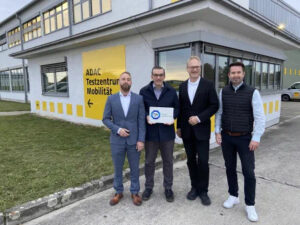 Andreas Rigling, head of the ADAC mobility test center in Penzing, underlined the benefits of the partnership for car buyers: "Type approval and consumer protection complement each other perfectly. While type approvals verify that vehicles and systems are in compliance with certain minimum requirements, consumer protection demands security and safety that go beyond these minimum requirements."
Andreas Schäffler, head of global homologation services Germany at TÜV Süd, added, "By pooling our resources at a single site and bringing together ADAC and TÜV Süd as a smoothly running team, we can offer cost-efficiency, time savings and improved safety and security.
"The expansion of the TÜV Süd Cluster Southern Germany to include the partnership with ADAC therefore offers an excellent environment for all vehicle developers, mobility providers, technology manufacturers and suppliers right from the outset."
For more testing news, please click here.