Release 8 of DYNA4, a simulation software for virtual test-driving, has been presented by software tools developer Vector Informatik. The latest generation of the software features a new scenario engine, which can now natively support the ASAM standard OpenSCENARIO 1.2 as input format for the description of complex test drive scenarios.
DYNA4 offers scenario-based testing of vehicle control functions with the integration of the ASAM standards OpenSCENARIO, OpenDRIVE and OSI. According to the company, this means extensively modeled scenario catalogs are consistently reused throughout the entire ECU development process, and across various simulation execution environments.
The ASAM standard OpenSCENARIO defines a description format for modeling the dynamic part of driving scenarios for virtual test drives, such as the maneuvers of road users (surrounding vehicles, pedestrians, and cyclists etc). The static part of a scenario, such as the underlying road network, is modeled based on the complementary OpenDRIVE standard.
The OpenSCENARIO standard describes a wide range of actions that can influence the behavior of the entities involved in the scenario, as well as conditions that serve as trigger conditions for the initiation of actions. This enables traffic scenarios to be modeled with any degree of complexity.
During scenario execution, DYNA4 enables flexible access to simulated model signals, states Vector Informatik. The native support of ASAM standards in DYNA4 offers a maximum of consistent use of modeled scenarios throughout the entire ECU development process. This not only increases the efficiency of simulation-based function testing, but also ensures investment security when building comprehensive scenario catalogs – the company adds.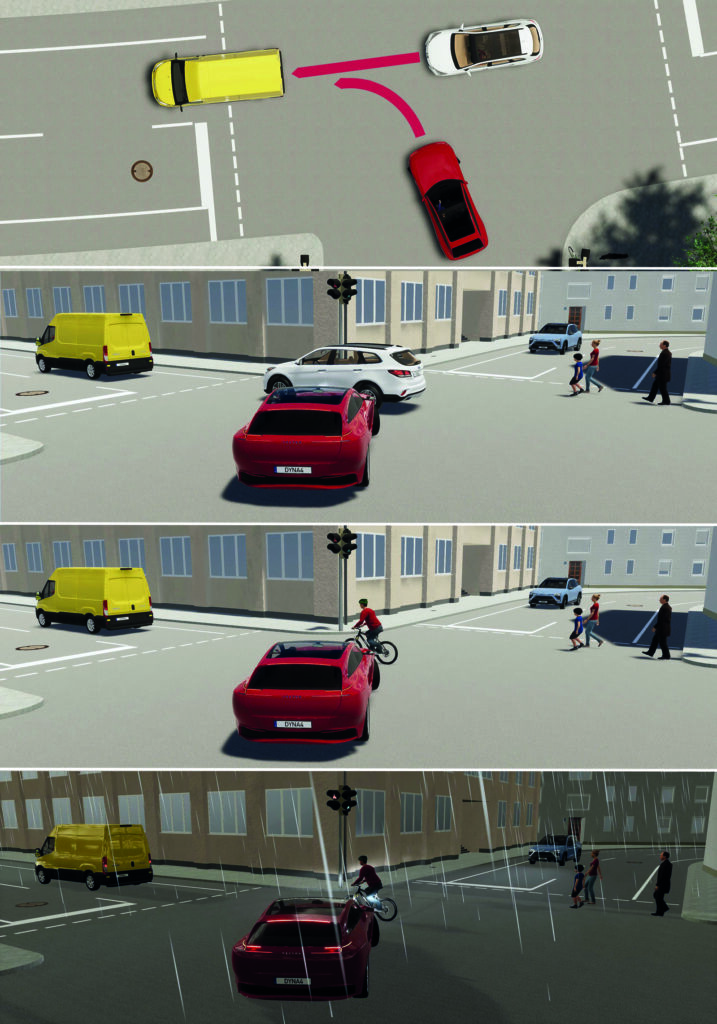 The physical models of DYNA4 or its scenario engine module can be integrated into other tool chains with ASAM standards. Interface problems when transmitting generated ground truth data or simulated sensor data are avoided by supporting the ASAM OSI format.
Another new feature in DYNA4 R8 is the direct injection of simulated camera images into an ADAS ECU. The virtual cameras available for this purpose in DYNA4 offer different distortion models for regular or fisheye lenses with a range of applicable image effects and configurable Bayer filter pattern, according to the CMOS used.
For direct injection to an ECU, images generated via real-time simulation are sent via ethernet to the Vector VX1161 Multi Base Module. The module outputs them as serialized image streams via FPD-Link III or GMSL using the VX1161.51 streaming interface cards. The ADAS function code on the ECU processes the injected virtual camera images to perform its detection, fusion, tracking and planning tasks. When the ECU outputs are received with the Vector VN network interfaces or the VT System cards, they can be fed back into the virtual DYNA4 vehicle model. This creates a hardware-in-the-loop test system for ADAS ECUs.