Mobileye has added Paris to its global autonomous vehicle testing program having announced its first autonomous on-demand service in the French capital, in collaboration with RATP Group, the world's third-largest public transportation operator.
The Intel company has obtained an AV testing permit to allow it to drive its autonomous robotaxis on the streets of Paris. Passengers who are part of the pilot will be among the first consumers to ride in a Mobileye AV, and the first to hail a robotaxi using the Moovit app that will be at the center of Mobileye's MoovitAV consumer ridesharing service.
In addition to testing in New York City earlier this year, Mobileye is also operating autonomous vehicle test fleets in Munich, Detroit, Tokyo, Jerusalem, Tel Aviv and China. The company is expected to launch further commercial robotaxi services under the MoovitAV brand in Munich and Tel Aviv in 2022 after obtaining regulatory approval.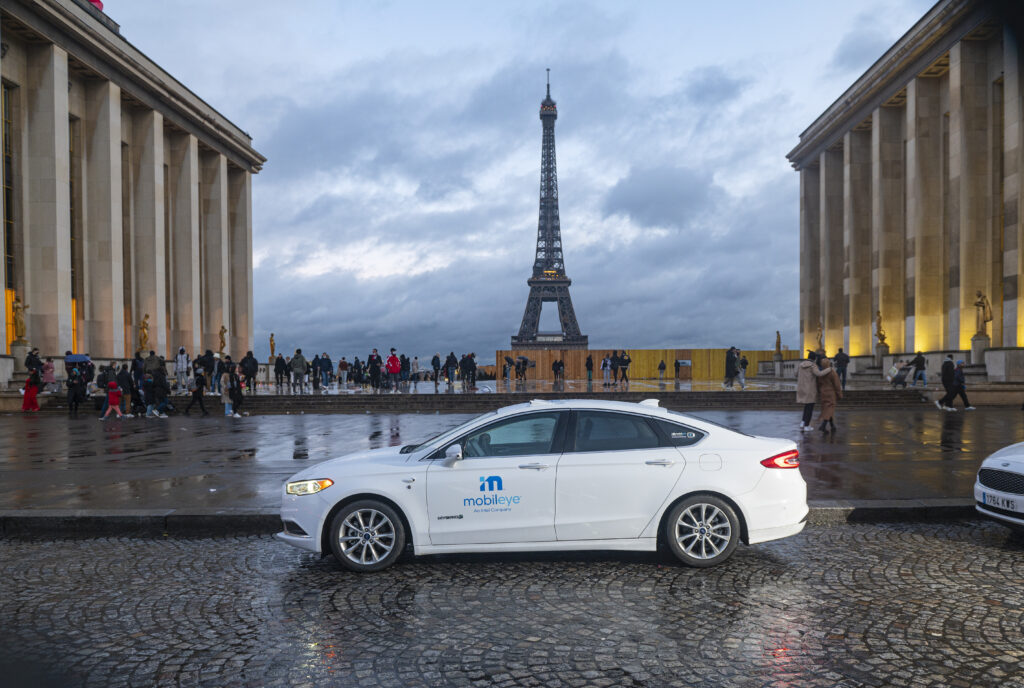 Department store tie-up
In collaboration with RATP, Mobileye has organized an AV on-demand service that will provide employees from the Galeries Lafayette Paris Haussmann department store the ability to request or schedule a ride to work using the Moovit app four days a week. Each Mobileye AV test vehicle is able to transport two passengers at a time, plus a Mobileye safety driver and an RATP co-pilot.
"Urban mobility is inseparable from the issues of our time and must enable us to meet the challenges of the sustainable city," said Alexandre Liot, managing director of Galeries Lafayette Haussmann. "Today it is essential to think about improving and transforming mobility, to prepare the future of city centers and allow Paris to continue its attractiveness. Therefore, as the French leader of department stores, we are proud to join forces with Mobileye and the RATP Group to participate in this innovative project which reflects on the transport of tomorrow."
With complex road systems and high volumes of pedestrians and traffic, cities like Paris pose a major challenge to human drivers and AVs alike. They represent essential testing fields to develop safe and comfortable driverless services on a global scale. Adding the French capital to Mobileye's rapidly expanding portfolio of AV testing environments marks another important step in moving the industry toward commercial readiness, according to the company.
Allowing customers to order their AV ride on-demand via the Moovit app represents an important step forward for Mobileye's planned MoovitAV robotaxi service, generating consumer awareness and confidence while gathering valuable insights and feedback from riders.
"Autonomously driving the roads of Paris is yet another milestone on the way to realizing our vision of self-driving inclusive mobility. We are happy to have not only gained the testing permit, but also strong partners in Paris," said Johann Jungwirth, VP of mobility-as-a-service at Mobileye, which recently shipped its 100 millionth EyeQ SoC.