On September 20 and 21, Santa Clara Convention Center in Silicon Valley played host to the second ADAS & Autonomous Vehicle Technology Expo California, gathering a community of OEMs and tech startups working on future mobility, robotaxis, last-mile delivery, autonomous trucking, buses, and more.
Comprising a free exhibition with 80+ specialist suppliers displaying the end-to-end ADAS/AV ecosystem and a conference with 70 world-leading industry experts, insights and knowledge were shared across the two-day event with a notable emphasis on a highly pertinent topic for the ADAS/AD industry: safety validation.
CONFERENCE HIGHLIGHTS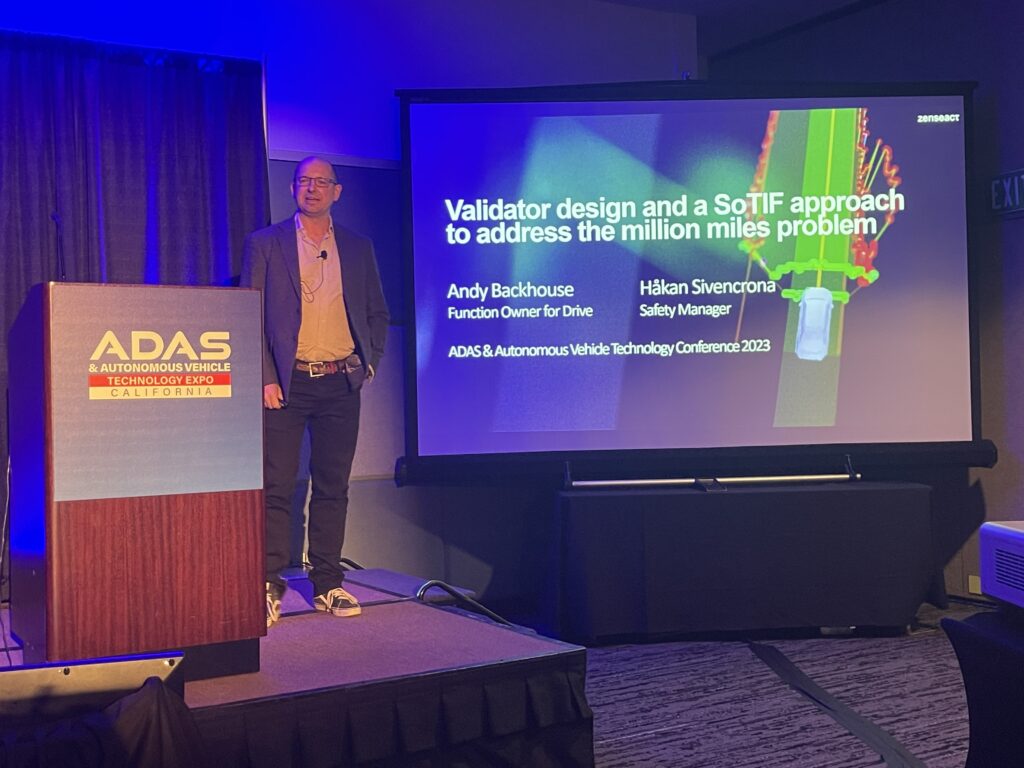 The first morning of the conference included a fascinating presentation from Zenseact's chief safety officer, Håkan Sivencrona, and the company's collision-avoidance threat-assessment technical specialist, Andrew Backhouse, on how validator design and SOTIF processes can help address the million miles problem. "The million miles problem is not unique to AD design. It is an issue for ADAS too," Backhouse said. "Autonomous emergency steering (AES) and autonomous emergency braking (AEB) have the potential to cause harm and these faults cannot be addressed by functional safety alone. Perception and decision algorithms that are insufficiently robust can lead to hazardous situations. We presented validator concepts that can be used to design more robust ADAS, and how one can iterate the design to minimize the risk of functional insufficiencies and build an argument to motivate that the systems are safe."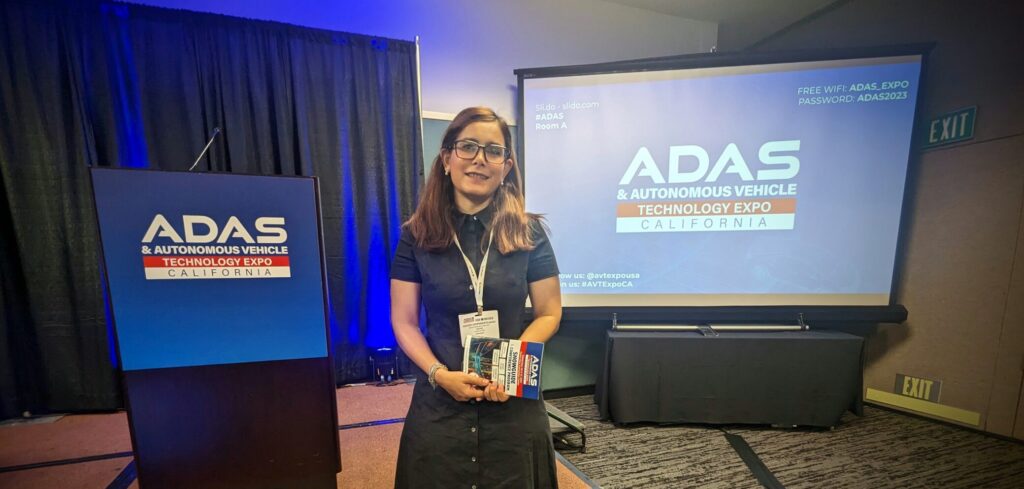 Another highlight was a presentation from Azadeh Dinparastdjadid, a senior research scientist on the Safety Research and Best Practices team at Waymo, discussing how to measure surprising road user behavior. Dinparastdjadid hoped that the audience took away the key finding that "surprise is measurable".
"Our paper introduced a novel generalizable framework on how to measure surprise in real-world complex environments. In the specific context of traffic safety, we believe that surprise has many applications, including but not limited to understanding crash causation and human behavior in critical situations, and evaluating on-road behavior," she said.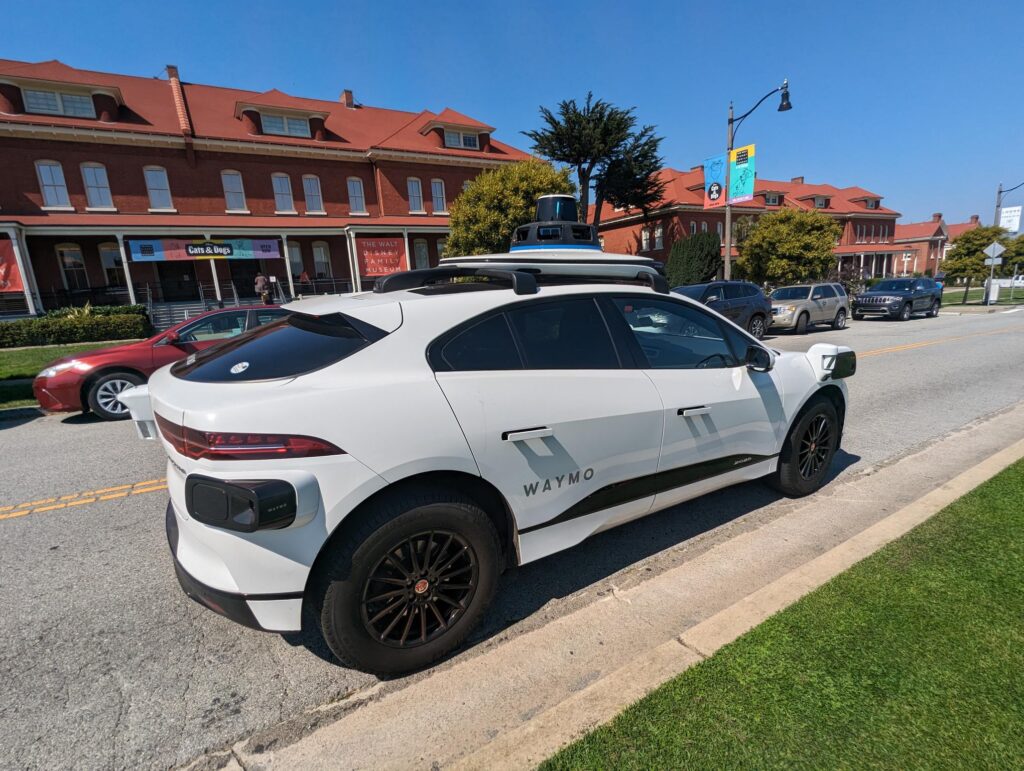 "In general, to enable wide-scale deployment and societal acceptance of autonomous vehicles, it is of key importance to ensure that they exhibit good behavior and act as a good citizen on the road. At Waymo, we have a conceptual framework called Drivership for how to think about good on-road behavior in the context of AVs. One of its principles is that AVs shouldn't surprise other users on the road. The metrics we have developed will help pave the way to measure and then further reduce surprise from our driving behavior."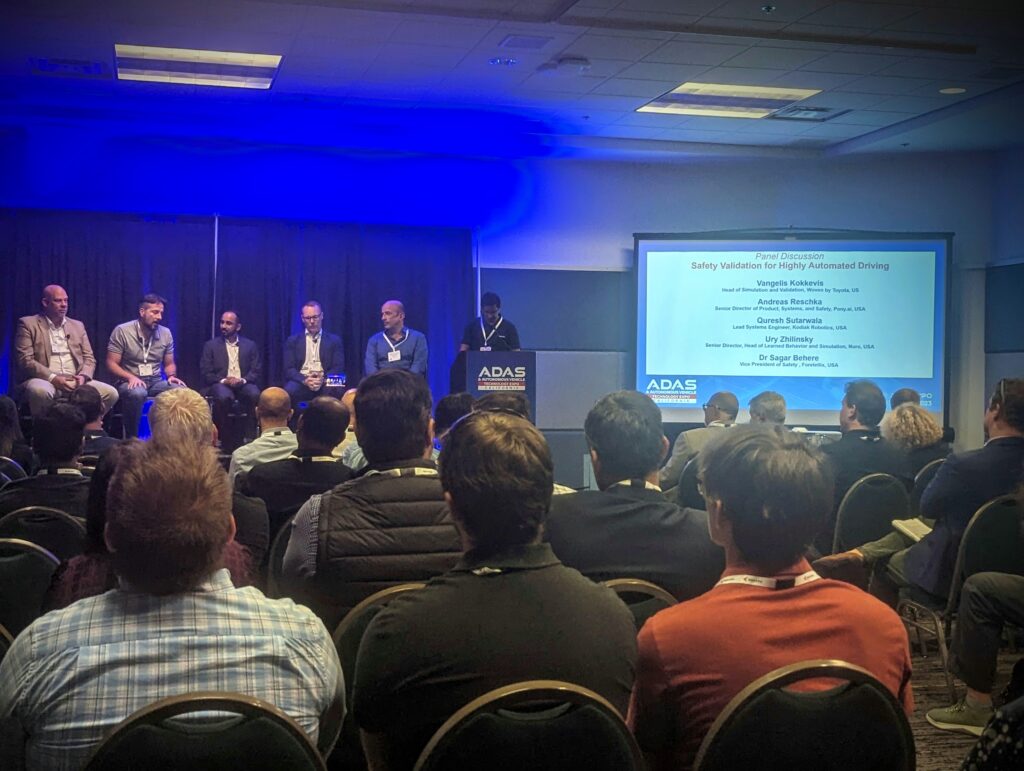 In a special panel discussion, Bay Area and Silicon Valley technology leaders focused on the challenges of safety verification and validation of autonomous driving and the innovations needed to ensure safety and build a valid safety case. Despite technological progress, safety is the main barrier in large-scale commercial deployments. Moderated by Dr Sagar Behere, VP of safety at Foretellix, contributors included Vangelis Kokkevis, head of simulation and validation at Woven by Toyota; Andreas Reschka, senior director of product, systems and safety at Pony.ai; Quresh Sutarwala, lead systems engineer at Kodiak Robotics; and Ury Zhilinsky, senior director and head of learned behavior and simulation at Nuro.
Reschka enthused, "It was a great panel, the knowledge of the participants was brilliant. Discussions were very interesting, mainly because there were many different views. Safety validation, especially using simulation, is the most important topic in the industry at the moment."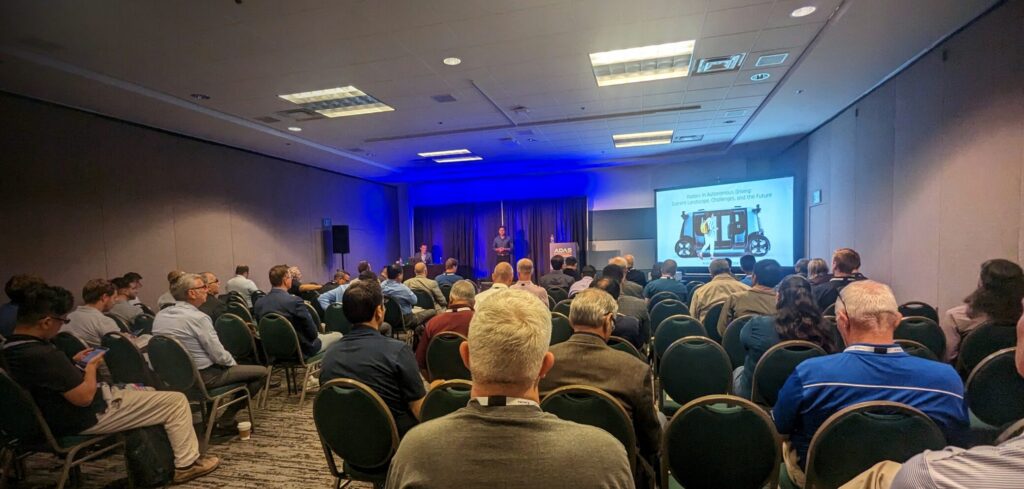 Arvind Srivastav, a software engineer at Zoox, presented on the use of radars in AVs. "One of the strategies I explore [is] early sensor fusion," said Srivastav. "We combine radar data with information from other sensors at an early stage to achieve a more robust perception of objects in a scene… Safety and reliability form the cornerstone of our envisioned autonomous driving future, and radars, with their unique capabilities and potential for continuous advancement, are set to play a crucial role.
"I really enjoyed attending the conference and was quite impressed by the diversity of booths in the exhibition hall," he continued. "There were many novel demos on ADAS applications as well as on simulated realistic radar data and a demo synthesizing complex environments that are hard to capture in the real world. These solutions can help train perception on more diverse data and improve its performance on rare objects. I also attended a few talks covering rich areas of ADAS and autonomous driving, ranging from new ADAS safety standards, automated regulations for AI, and new FMCW lidars for ADAS and autonomous driving. It's been a very enriching experience overall."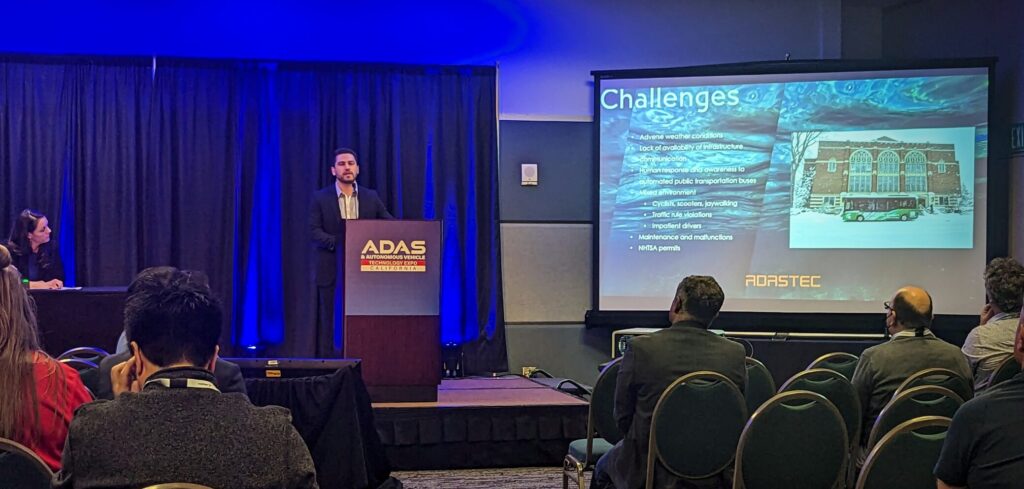 Cemre Kavvasoglu, product management director, North America at Adastec Corp, shared lessons learned from deploying autonomous bus fleets in the USA and Europe. "One of the main challenges of SAE Level 4-capable automated transit bus deployments is varying weather conditions," he said. "It is vital to assess the environment's climate, such as heavy rain, snow, fog and extreme heat. To operate throughout varying seasons, Adastec has undertaken tremendous amounts of testing around the globe." Kavvasoglu suggested technologies that could enhance performance in poor weather: "Sensor cleaning systems for maintaining clear sensor visibility; V2I and V2V communication systems for enhanced situational awareness and improving safety and efficiency; and better weather prediction capabilities."
A new lidar scanner was introduced by Omnitron Sensors. Eric Aguilar, co-founder and CEO, said, "It brings a significant reduction in size, cost and complexity compared with existing lidar systems. This addresses a critical bottleneck in lidar technology, making it as ubiquitous as cameras are today … This event gathers industry leaders from Europe and the USA who share a common objective: advancing autonomy to the mass market."
Torc's SVP of safety and regulatory, Michelle Chaka, presented 'Safely Delivering Autonomous Trucking Solutions', detailing the company's safety management system (SMS) and its foundational components. A repeat attendee for previous organizations, Michelle said, "Yet again, the ADAS & AV conference drives us forward and keeps us humble at the same time. Coming together as a community to share knowledge, while comparing wins and struggles, is a foundational part of an autonomous technology future, and Torc is excited to be a leader in the conversation. Together, we can build trust and credibility while we drive the future of freight."
EXHIBITION HIGHLIGHTS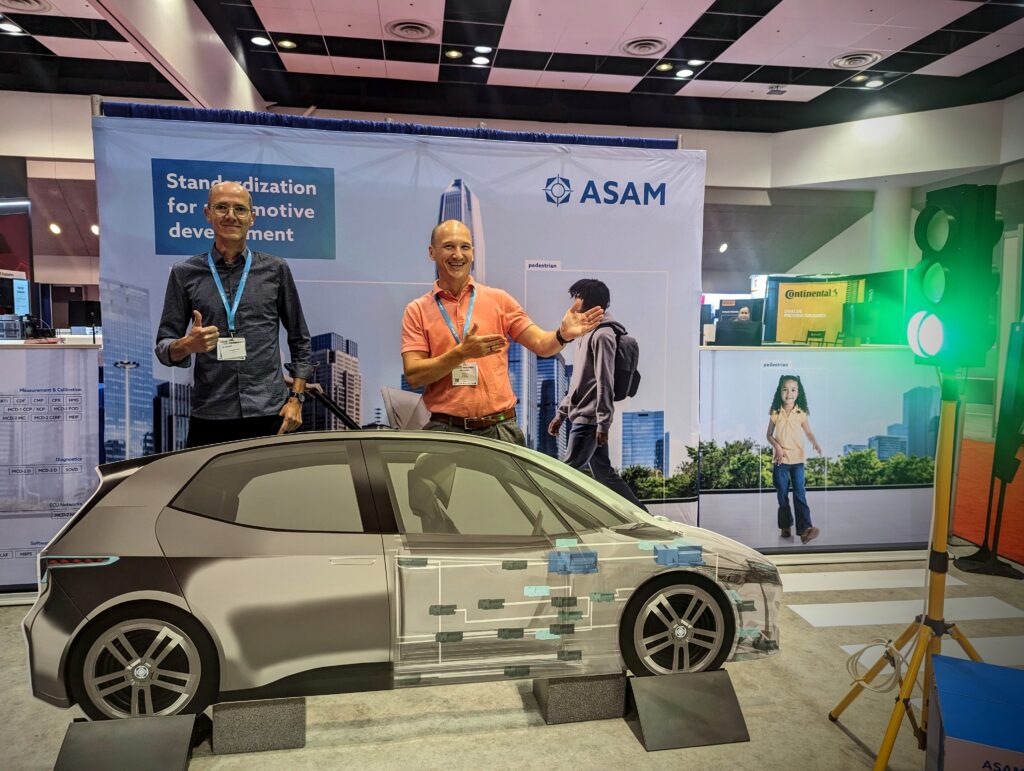 Benjamin Engel, CTO at ASAM, said, "We are setting standards for AD and ADAS. Our focus is to promote collaboration within the automotive industry. We think standardization is essential for enabling the development of safe, autonomous driving. High levels of automated driving would not be possible without standards. No company can do it alone."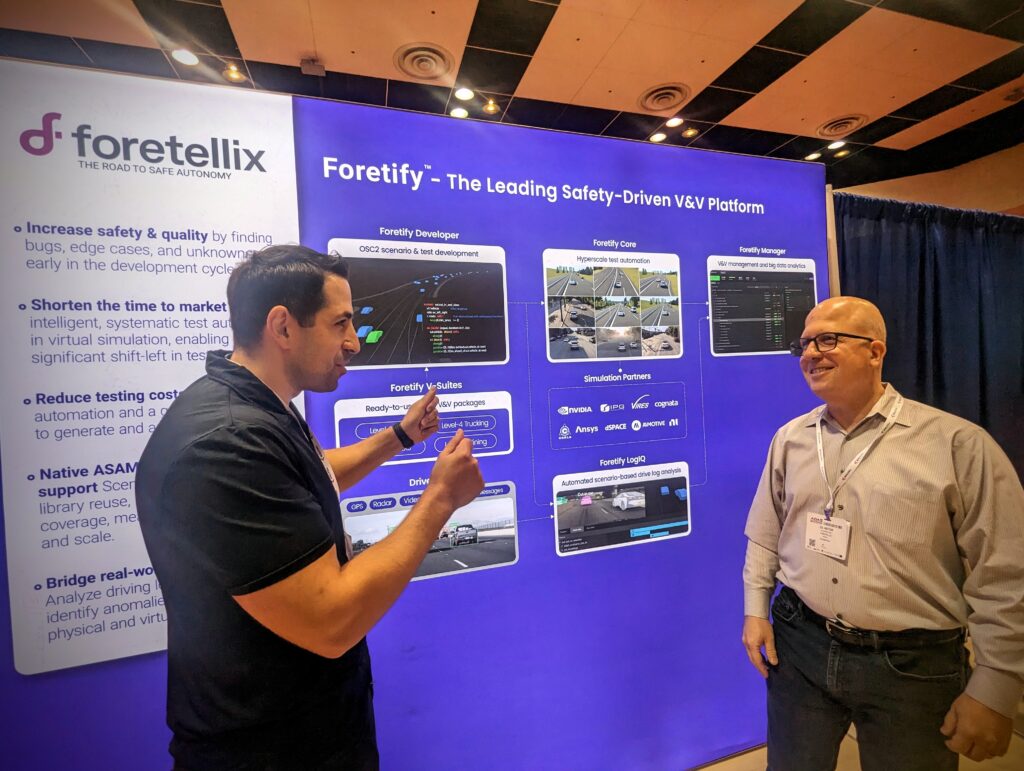 "Safety validation is the biggest challenge of autonomous driving today," said Gil Amid, VP of marketing at Foretellix. "Why? Because AVs are incredibly complex and drive in unpredictable environments. They need to be tested against millions of scenarios that could happen in everyday life … effectively and efficiently." Foretify is the company's safety-driven verification and validation platform that can automatically generate a large number of test scenarios, and run them through any simulator. Foretellix has invented a computer language and contributed it to ASAM's OpenScenario 2.0 language that enables users to describe driving scenarios in an abstract way.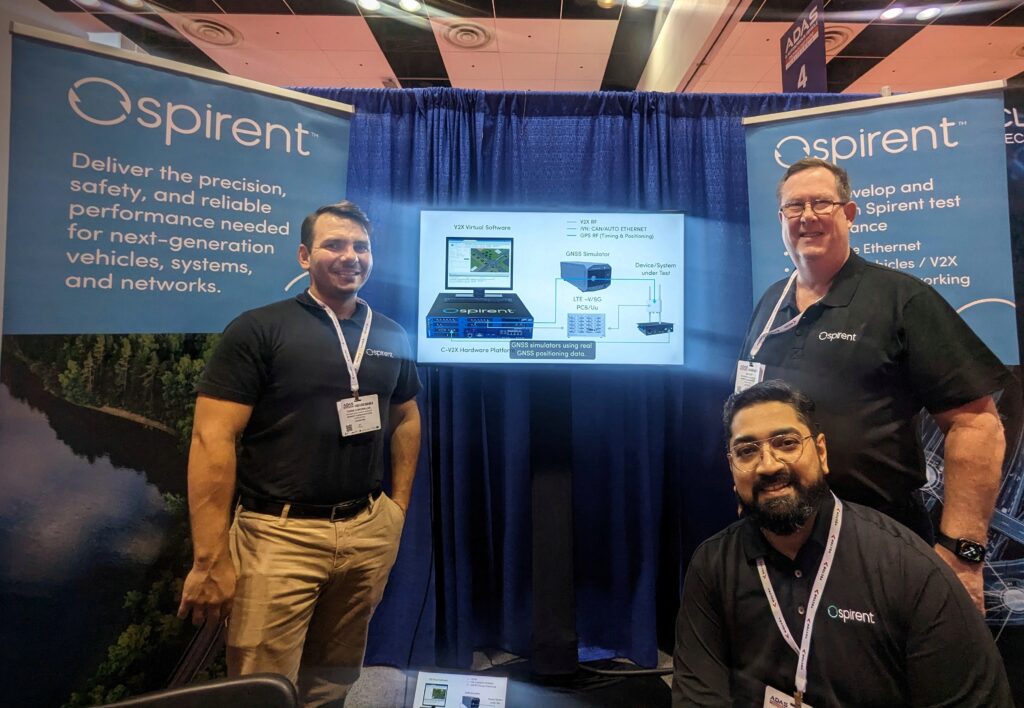 Developed in partnership with Xona Space Systems, Spirent's latest solution SimXona enables certified, deterministic testing using the next generation of low-Earth-orbit (LEO) positioning, navigation and timing (PNT) signals. Ajay Vemuru, Spirent's director of business operations and strategy – Americas, explained, "As vehicle, system and subsystem developers are looking to add greater precision and resilience, Spirent is helping the integration of more sensors with greater cooperation and redundancy."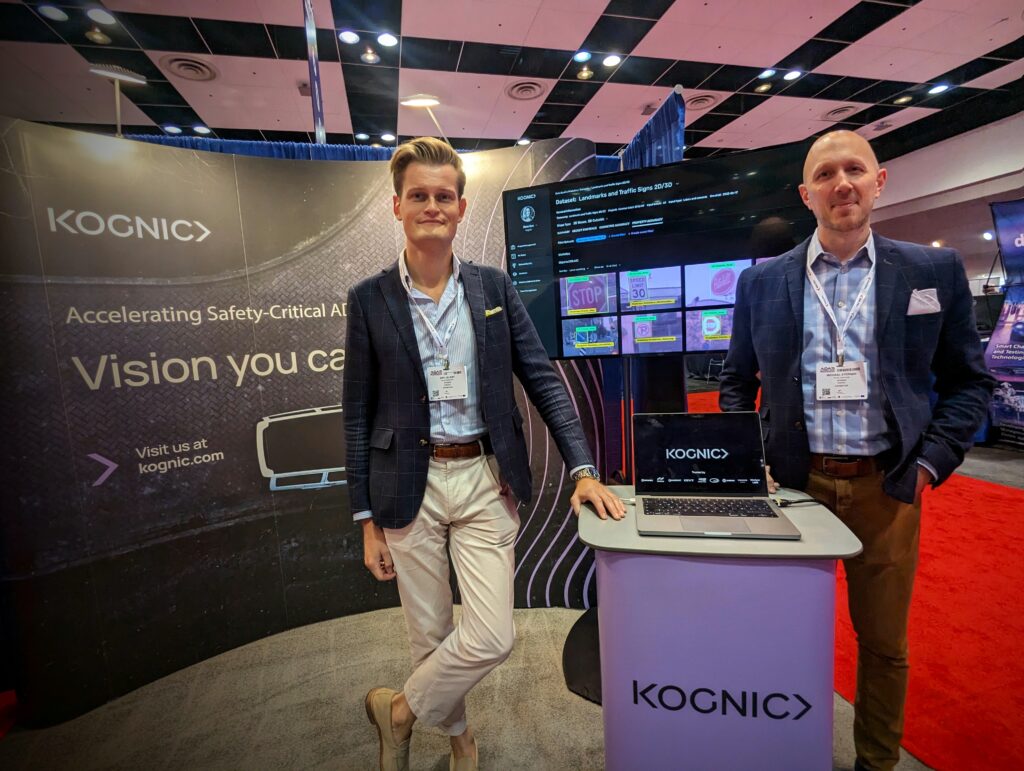 Kognic provided hands-on demonstrations of its comprehensive platform for managing data sets used to enable perception systems. Przemek Sienkiewicz, the company's chief revenue officer, said the company is "notably powering proven ADAS/AD products for T1/T2 customers and OEM partners", and added: "One of its many unique features is merging multi-sensor output into seamless and calibrated sequencing for faster annotation, with greater accuracy and the ability to iteratively fine-tune the data set … we're also excited to announce that we're building a team here in California to help our customers do more, more quickly."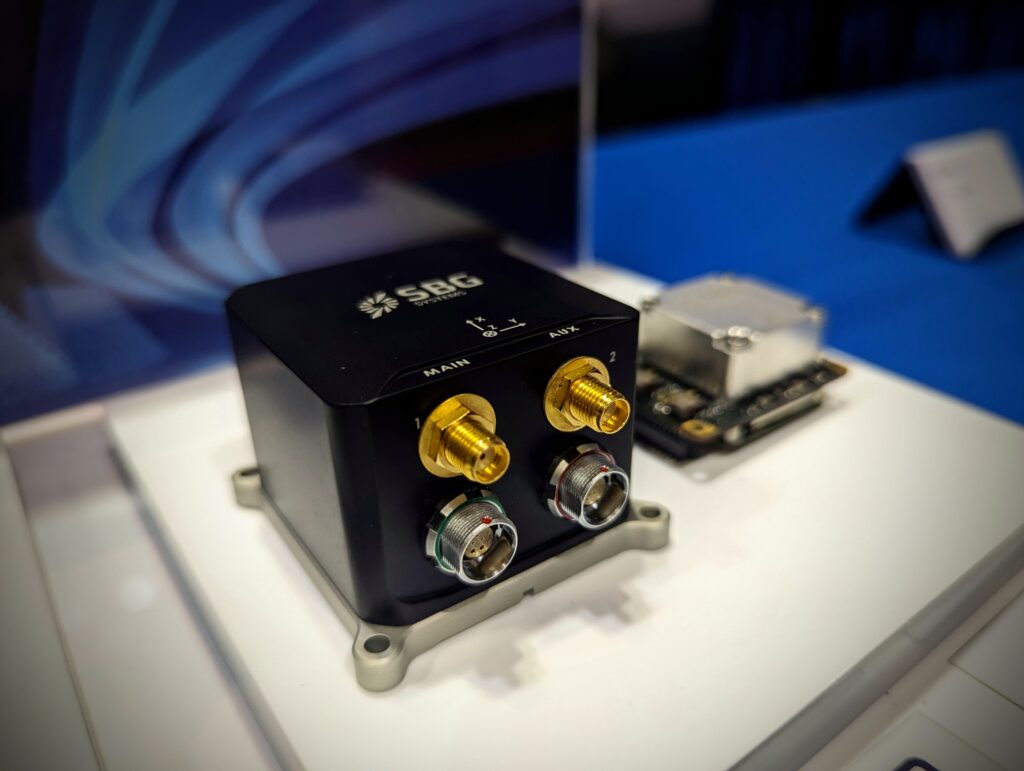 The Ellipse series, Ekinox Micro and Qinertia PPK software for mapping was exhibited by SBG Systems. Laurent Le Thuaut, the company's business development manager, said, "The new Ekinox Micro features PTP-based time synchronization over Ethernet. In a nutshell, the Ellipse Series is well suited to ADAS, while Ekinox Micro's extended capabilities make it more suitable for autonomous vehicles."
Ground Positioning Radar was showcased by GPR, mapping the unique, character-rich subterranean environment, providing insights into subsurface structures and uncovering hidden elements like road infrastructure, buried utilities and soil characteristics. According to Vanya Banjac, the company's VP of marketing, these maps are protected by the ground, do not change and provide consistent and reliable ADAS and automated driving regardless of weather conditions, GPS availability and land markings. Banjac emphasized that precise localization is "the missing piece in consistent uptime and operations; 80% of drivers want their current advanced driver-assistance systems to work better". 
Klimator showed visitors its AHEAD onboard sensor fusion solution. "Our cloud-based solution provides warnings about adverse driving conditions (incidents), dynamic hazard warnings and road weather information," said Viktoria Bogren, head of the company's automotive business area. "If we want safe systems and the possibility to use AVs that work all year round, road weather intelligence is critical. It is also extremely important in providing proactive information to the driver."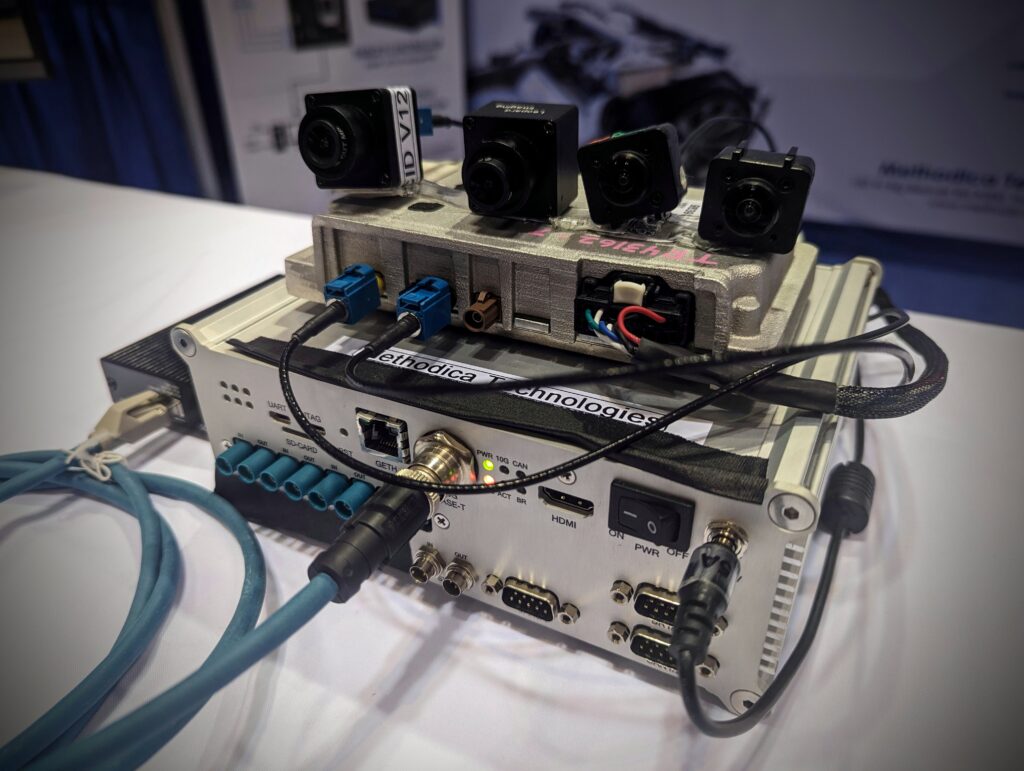 Methodica Technologies showcased Peekaboo (P-Series), its latest addition to data-driven development in autonomous, ADAS and system advancement. As an in-built, one-stop solution, the Peekaboo datalogger can log the resources and network components of self-driving vehicles, including camera, CAN, automotive ethernet, FlexRay, lidar and radar for ADAS and AVs, bothmeasurement and HIL systems.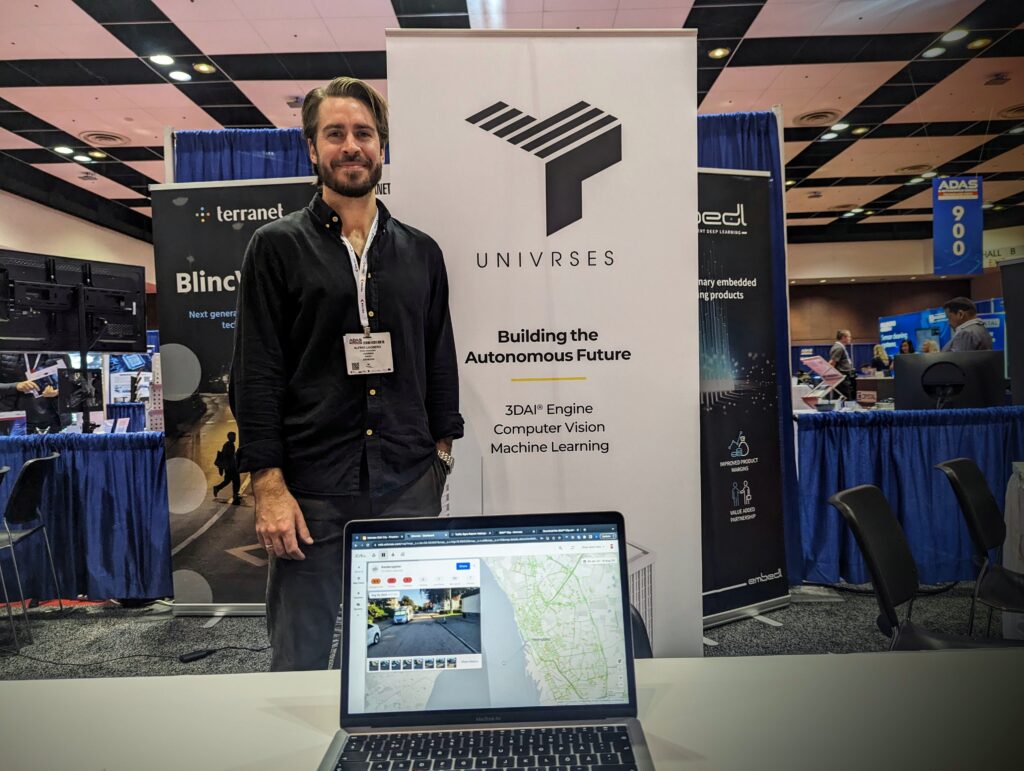 Participating with Business Sweden, Univrses showcased 3DAI City (AI-generated live maps), which introduces a new paradigm in urban and highway management. By mounting a camera in the windshield of a moving vehicle, the AI software can generate real-time data on road quality and traffic density etc. Jonathan Selbie, CEO at Univrses, said, "3DAI City is designed to leverage data collected by advanced computer vision and AI perception to generate insights for cities and road transport authorities."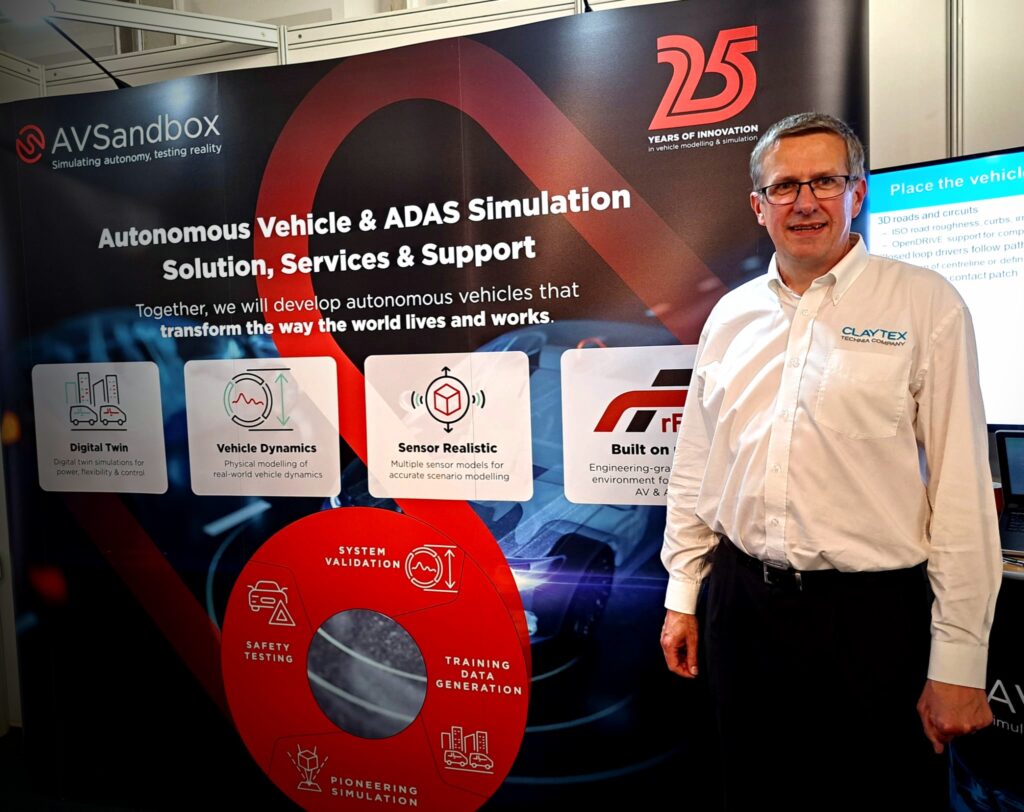 And Claytex showcased its AVSandbox product which, said managing director Mike Dempsey, "provides a sensor realistic simulation environment to immerse the ADAS feature or AV control system into the virtual world so customers can test and develop their systems using simulation". The Centre for Connected and Autonomous Vehicles (CCAV) recently awarded a £2m (US$2.4m) grant to the Sim4CAMSens project, led by Claytex and industry-leading partners (including exhibitor rFpro), as part of the Commercialising CAM Supply Chain Competition. It will create new sensor models, improved noise models, new material models and new test methods to allow ADS and sensor developers to accelerate development.
ADAS & Autonomous Vehicle Technology Expo returns to California next year on August 28 & 29. Meanwhile, you can see more highlights from the show on the website. We hope to welcome you next year.