Renault has unveiled its latest autonomous concept vehicle, the EZ-PRO, which takes the form of robotically controlled pods that can be used to carry out last-mile deliveries.
The highly modular electric robo-pods are shared and can be customized to individual businesses or services and offer a vision of how autonomy can provide a platform for delivery companies, logistic operators, retailers and consumers.
With the growth of e-commerce, it is estimated that last-mile delivery makes up 30% of traffic in cities, which Renault's EZ-PRO has been designed to alleviate with a convoy of pods all delivering different goods and merchandise arriving to consumers' choice of location.
"With EZ-PRO, we continue our exploratory work around urban shared mobility of the future. Focused on delivery solutions, this autonomous, connected and electric concept represents the ideal tool, being both a creator of opportunity for professionals and a facilitator of services for all its users, direct or indirect. It is based on Renault's expertise in commercial vehicles and on the brand's DNA, which places people at the heart of its solutions," said Laurens van den Acker, senior vice president, Groupe Renault Corporate Design.
The EZ-PRO concept is operated using a leader pod with a human concierge inside to supervise and plan the delivery of goods, as well as deliver delicate or premium items in-person.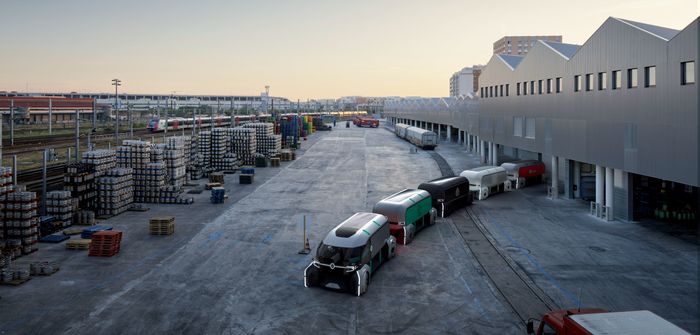 The system also consists of a convoy of driverless pods, which are dispatched from the same hub with payment systems and lockers on board for consumers to receive their orders.
"Renault EZ-PRO shows our vision of last-mile delivery integrated with the ecosystem of smart cities of tomorrow and the needs of professionals. This concept is a solution that would unlock countless opportunities for our various partners, such as we're showing today with DPD Group, Lomi Coffee, Piper-Heidsieck and Patrick Roger," said Ashwani Gupta, Alliance senior vice president, LCV.
EZ-PRO joins Renault's other mobility service concept, the EZ-GO, which also uses a shared, driverless robo vehicle platform but for transportation of people within cities.
By James Billington