Renesas Electronics Corporation, a provider of advanced semiconductor solutions, has unveiled an ambitious roadmap for its next-generation system on chips (SoCs) and microcontrollers (MCUs) that target a broad spectrum of applications in the automotive digital domain.
The company has revealed information on its fifth-generation R-Car SoC designed for high-performance applications. This innovative SoC incorporates advanced in-package chiplet integration technology, providing automotive engineers with enhanced flexibility to tailor their designs according to specific requirements. For instance, in ADAS, where increased AI performance can be crucial, engineers can seamlessly integrate AI accelerators into a single chip.
Renesas also outlined its plans for two MCU advancements within the next-generation R-Car family. The first is a crossover MCU series aimed at delivering the high performance necessary for domain and zone electronic control units (ECUs) in next-gen electric/electronic (E/E) architectures for automobiles. These MCUs are poised to bridge the performance gap between traditional MCUs and advanced R-Car SoCs. The second is a separate MCU platform tailored for the vehicle control market, both powered by Arm architectures. These MCUs will become integral components of the industry-leading R-Car family, offering scalable options and software reusability for automotive engineers.
As part of Renesas's roadmap, the company is set to introduce a virtual software development environment, aligning with the automotive industry's shift-left approach. This move enables customers to design and test software earlier in the development process, reflecting a commitment to accelerating development without compromising quality.
Vivek Bhan, senior vice president, co-general manager of high-performance computing, analog and power solutions group at Renesas, said, "What our customers have been telling us is that they need to be able to accelerate development without compromising quality. We will help them realize this goal by continuing to invest in shift-left and software-first innovations, deploying new scalable embedded processors, and bolstering our vast network of development tools."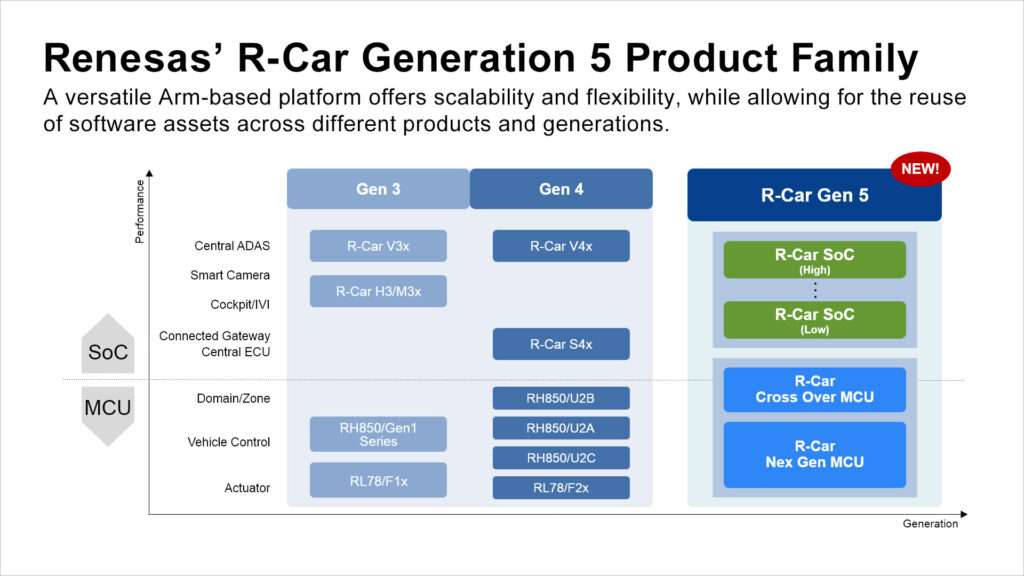 Renesas's fifth-generation R-Car SoC represents a departure from previous iterations, incorporating chiplet technology to create a flexible platform customizable for various use cases. The platform offers multiple processor sets, catering to entry-level to higher-end models, and supports the integration of diverse IP, including AI accelerators and partner/customer IP, into a single package.
To address the evolving landscape of electric/electronic (E/E) architecture in vehicles, Renesas is developing an Arm-based 32-bit crossover R-Car MCU platform. This platform, equipped with built-in non-volatile memory (NVM), is designed to deliver higher performance than traditional MCUs. Additionally, Renesas is expanding its vehicle control portfolio with a new R-Car MCU series, powered by Arm, enabling automotive system developers to leverage the Arm ecosystem for powertrain, body control, chassis and instrument cluster systems.
Renesas is set to release new products aligned with this roadmap starting from 2024.