German autonomous trucking company Fernride has announced it has closed a further US$19m in its Series A funding, pushing the total round amount to US$50m. The funding is part of the company's push to strengthen its focus on advancing the transition toward automated and sustainable logistics using human-machine collaboration technology.
Among the new investors are Deep Tech and Climate Fonds (DTCF), San Francisco-based Munich Re Ventures, Bayern Kapital and Klaus Kleinfeld, who also assumes the role of chairman on Fernride's board. These investors add to the roster of existing venture capital support from ten founders, Promus Ventures, Fly Ventures, Speedinvest and Push Ventures, along with corporate investors HHLA Next, DB Schenker and Krone.
"By closing our Series A at US$50m, we have established an investor base consisting of multiple corporates and large venture funds that can provide us many key strategic advantages along the value chain, as well as fund our ambitious growth plans to build the global category leader for autonomous, electric trucking," said Hendrik Kramer, co-founder and CEO of Fernride.
The company's human-assisted approach to autonomy aims to address major industry challenges in logistics and bolsters the economic viability of the solution, unlocking the benefits and service of driverless operations. This approach has already won Fernride partnerships with industry players such as Volkswagen, DB Schenker and HHLA.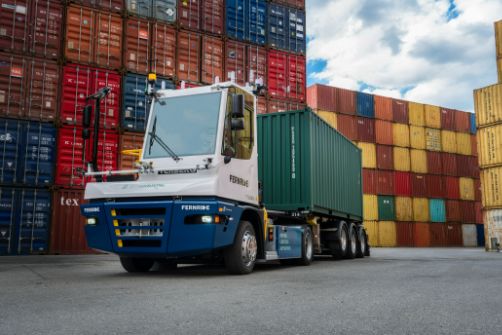 "Fernride has assembled an exceptional team within the industry and has the potential to develop into a leading global technology champion from Germany," said Elisabeth Schrey of DTCF. "Fernride's use of pioneering technologies that automate and decarbonize the supply chain fits very well into the Deep Tech and Climate Fonds investment focus."
This influx of capital will be channelled into amplifying Fernride's position in autonomous trucking to promote sustainability, increase productivity and improve worker safety. The company says it is committed to harnessing these resources to scale the operations with existing and new customers globally and boost the technological development of their approach to human-assisted autonomy.
"By starting with tele-operations that initially keeps a human in the loop, we believe Fernride's step-by-step approach is the optimal path toward building fully autonomous capabilities," said Timur Davis, director at Munich Re Ventures. "Fernride has already demonstrated its ability to partner with key players in the industry and is positioned to rapidly build on its unique strengths and capabilities to succeed where others in the market have fallen short."