Ever since the first automobiles rolled onto the road, manufacturers have been introducing technology to ensure they avoid crashing into each other. But it wasn't until the mid-1990s that innovation really moved up a gear and cars could intelligently assist drivers to keep their distance from those in front.
Adaptive cruise control was one of the first functions to appear on production cars that could truly be considered a first step toward 'autonomous' driving. However, it did take time – and some trial and error – to settle on a technology that worked.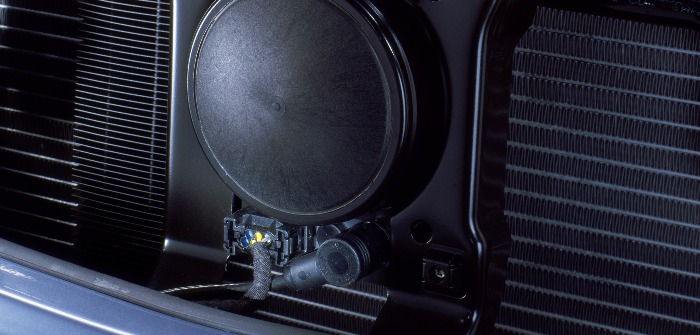 In 1991, Mitsubishi dabbled with lidar by installing a system in its Debonair, but it was just a rudimentary warning system and did not regulate speed. Four years later Mitsubishi became the first OEM to offer an adaptive cruise control system after equipping its 1995 Diamante sedan with a Preview Distance Control system, which introduced lidar in the front bumper and a miniature camera mounted in the rear-view mirror. It was able to sense when the distance to the vehicle ahead was closing and would automatically ease off the accelerator or make the transmission downshift to slow the car. Its limitation, however, was that it could not operate the brakes, so when the speed difference with the vehicle in front was too great, it had to resort to alerting the driver with audible and visual warnings.
With no braking intervention, an operational limit of 67mph (108km/h) and poor performance in the rain, Mitsubishi decided to keep the system solely for the Japanese market, where it suited the road conditions and generally clement weather.
Toyota followed its Japanese rivals with a more robust Denso-developed system on the 1997 Celsior – a Japanese-market version of the Lexus LS. Also using lidar but still without any control over the brakes, Toyota's system provided a horizontal sensing range of 16º and a vertical range of 4º and was able to track other vehicles up to 100m (330ft) away.
New markets
European and US customers would have to wait until 1999 for a system befitting of their roads and weather, when Mercedes-Benz introduced Distronic on the S-Class (W220). Notably, Mercedes' system was designed to work at higher speeds – essential for use on unrestricted German autobahns, but the company also introduced two other critical features. In the aftermath of the infamous A-Class elk test in 1997, where the vehicle overturned trying to avoid an obstacle at speed, Mercedes had started to make its ESP stability control system a standard feature on all its cars. This meant that provisions for automatic braking were already in place, correcting the biggest omission from the Japanese systems. Secondly, it featured radar rather than lidar. While the latter may be the popular option today for autonomous driving systems, back in 1999, high-quality radar systems were an advantage as they were available at a far lower price point. Another important factor was that radar is not affected by rainy, foggy or dusty conditions in the way lidar is.
Later systems from other manufacturers subsequently also adopted radar and stop/start capability, as well as the addition of cameras and sensors to enable the ability to automatically steer the car to keep within lane markings. These iterative improvements have evolved adaptive cruise control from Level 1 ADAS to Level 2 and now serve as the foundation for a fully autonomous future.