As the USA looks set to make AEB mandatory for new light-duty vehicles, how is the automotive industry working to address the challenges faced by today's technology, asks Alex Grant, in an exclusive feature first published in the September 2023 issue of ADAS & Autonomous Vehicle International.
On May 31, 2023, USDOT took a decisive step toward raising the bar for factory-fitted ADAS on new vehicles. NHTSA has proposed introducing a Federal Vehicle Motor Safety Standard (FMVSS) that will make automatic emergency braking (AEB) mandatory for light-duty cars and trucks within four years of publication. It closely follows mandates in Europe and Japan, but sets tougher rules for zero contact at higher speed and in darkness, both of which are likely to drive additional technology into future vehicles. 
To date, AEB fitment has been voluntary in the US. Forward collision warning (FCW) systems became part of NHTSA's NCAP ratings in MY2011, followed by vehicle-to-vehicle AEB in MY2018. NHTSA also collaborated with the Insurance Institute for Highway Safety (IIHS), brokering a commitment by 20 OEMs to fit vehicle-to-vehicle AEB to all of their new light vehicles – comprising 99% of the US market – by September 1, 2022.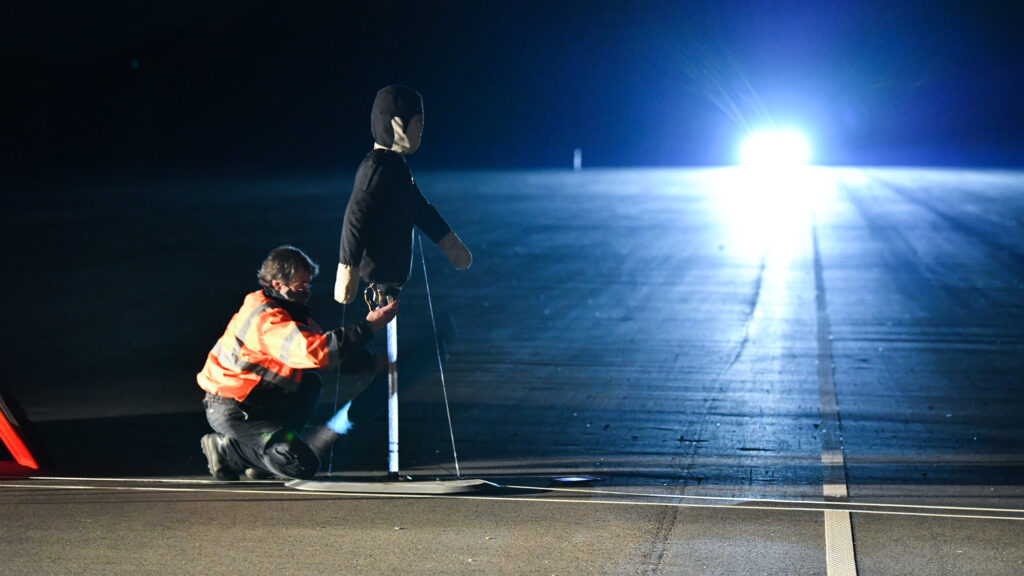 Today, the majority of new vehicles meet NCAP's test requirements, but their scope is limited. NHTSA notes that most injuries and fatalities take place beyond the 40km/h maximum speed covered by the program's AEB tests. Its proposed FMVSS sets a tougher market-wide baseline for future systems, which it says could avoid 362 fatalities and 24,321 injuries per year, while also reducing property damage from rear-end crashes.
Current limitations
Recent testing has highlighted shortfalls with current systems. The IIHS began assessing vehicle-to-vehicle AEB in 2013, and extended testing to pedestrian (P-AEB) detection in 2019, recognizing that fatalities were rising. Two years later, availability of pedestrian detection had expanded from 60% to 90% of vehicles tested by the organization, with half earning superior ratings in daylight.
However, with 75% of pedestrian fatalities happening after dark, the organization's vice president of active safety, David Aylor, says there was a need for broader research. "About a year ago, we started doing testing at night," he explains. "We evaluate vehicles with both their low and high beams with an adult crossing the road or standing in the lane, and that's a much bigger struggle. We're seeing vehicles that perform well during the day not doing well at night."
Aylor's team assessed 23 midsize cars, SUVs and small pickups in full darkness at the IIHS Vehicle Research Center, examining whether they could detect an adult crossing or walking alongside the road, repeating tests with high- and low-beam headlights and at two speeds. Four vehicles detected the dummy in all scenarios, but only one of them was able to avoid a collision in every test. With only low-beam headlights, most struggled to detect the partially lit dummy, especially at higher speeds. 
To encourage improvements, IIHS added night-time pedestrian collision avoidance and more stringent headlight requirements to its Top Safety Pick+ award criteria earlier this year. However, NHTSA's proposal offers an extra 12 months (four years, instead of three) for new vehicles to comply with low-beam detection requirements. 
"From a safety standpoint, I would have liked to have seen NHTSA go further and include bicyclists, maybe low and high beams at night, in all the scenarios and having other targets such as motorcycles," Aylor continues. "They do acknowledge that there are bicycle crashes out there. I think it would have been nice for them to include some of those scenarios that aren't in the current proposal."
The American Automobile Association (AAA) has also identified issues with today's technology. Most systems are good at preventing or mitigating rear-end collisions, but recent testing showed one-third of vehicles collided with a bicycle as it crossed their path and AAA senior automotive engineer, Matthew Lum, says this also applies to larger road users. T-bone collisions and left turns in front of oncoming traffic accounted for 39% of road fatalities between 2016 and 2020. However, tests of four MY2022 vehicles found none alerted the driver or applied the brakes when faced with those scenarios. 
"From a technology perspective, it is likely that current systems struggle with turning and crossing scenarios due to limitations around field-of-view for camera sensors. These intersection-based scenarios are not currently evaluated within US regulatory requirements nor the [IIHS and NHTSA brokered] voluntary commitment for auto makers to include AEB within their model line-up," Lum explains.
Although several manufacturers are promising to address this with future iterations of their AEB systems, rules are a helpful stimulus. Lum adds, "The proposed rule-making represents a significant step in improving the performance of AEB systems within all light vehicles regardless of make or price point. Future regulations should consider incorporating AEB evaluations in the context of turning or crossing scenarios, similar to those conducted by AAA." 
More sensors
Despite improvements in cameras and algorithms, NHTSA's proposal is expected to result in future vehicles using a wider range of sensors. In a recent white paper assessing the effects of mandatory AEB, Egil Juliussen, senior partner and principal analyst at VSI-Labs, noted that meeting the requirements could drive demand for infrared cameras, 4D imaging radar and lower-cost solid-state lidar – all of which represent new opportunities for suppliers.
Some of those foundations are already being laid. Volvo and Mercedes-Benz are equipping near-future models with lidar from Luminar, while the latest Toyota and Lexus advanced driver assistance technologies use the same technology. Tom Leggett, vehicle technology specialist at Thatcham Research, believes growing economies of scale will enable the technology to drip-feed into more mainstream models with benefits for future AEB capability.
"A forward-facing radar would be able to detect an object at 150-200m away, and then relies on the camera to identify exactly what it is. Lidar can spot a pothole from 300m away, some can read road signs, detect lane markings, etc. It works fantastically in low-light scenarios, and it can often see through rain, fog and snow. Lidar is also very effective for high speeds because it can see so far away," he says.
"The most attractive part is object identification. Lidar can do a really accurate silhouette at subcentimeter accuracy, so is able to accurately identify a child, adult or cyclist. With that resolution, you can accurately estimate their direction of travel, how quickly they're moving and these sorts of things."
Suppliers are also working toward new AEB-focused solutions. In May, Gentex Corporation invested in Israeli company Adasky, providing commercial, engineering and manufacturing support to bring its low-cost long-wave infrared (LWIR) sensor technology to market. Raz Peleg, Adasky's vice president of business development, believes it could address some of the challenges faced by today's systems.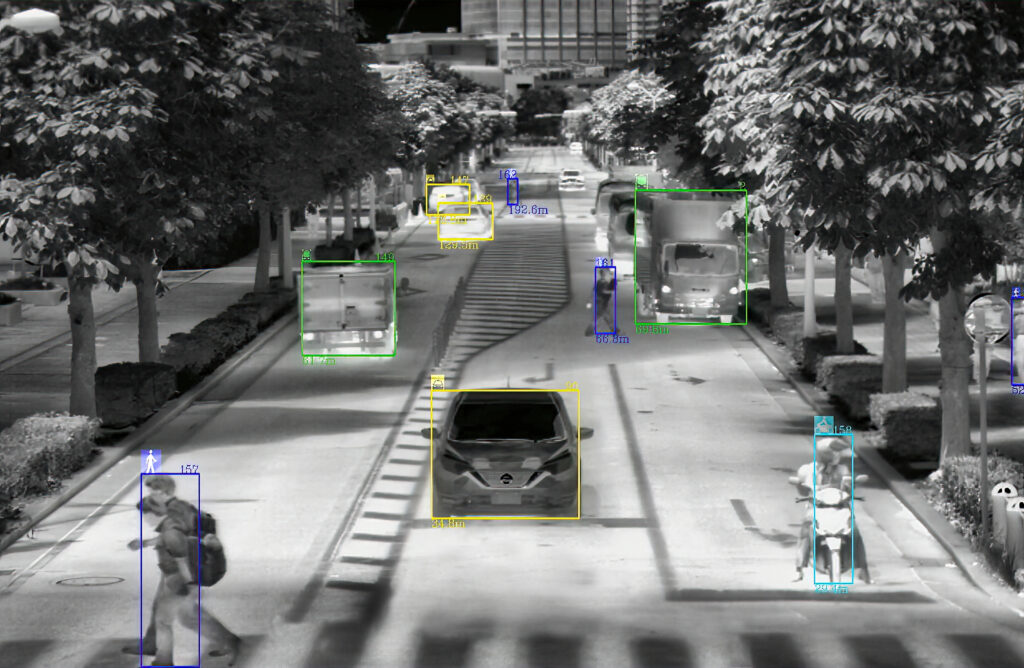 "The reason [systems struggle at night] is they use daytime cameras and radar for range measurements," he explains. "While the radar is not challenged at night at all, it needs the camera to classify the relevant object. Once the camera is challenged, as vehicle headlamps do not suffice, the AEB system will not be operational. The same goes for any visibility challenge of glare or harsh weather conditions."
LWIR detects heat signatures instead of light. These penetrate humidity and precipitation and aren't affected by glare – Adasky claims a 300m detection range and living being classification within 200m in all conditions. However, Peleg believes regulations should also look beyond the vehicle itself.
"Rule-making can influence smart city technologies, demanding them to assist vehicles via infrastructure-mounted cameras in areas known to be hot spots," he says. "AEB should be regarded as the last step. Prevention can be achieved with infrastructure-mounted thermal cameras alerting early on safety challenges ahead or around the corner in pitch dark or harsh weather. Autonomous mobility would also be assisted by these."
NHTSA's proposal

Within three years of the final rule, light-duty vehicles with a gross weight rating of up to 4,536kg will have to meet the following standards:

• FCW and AEB must be active at 10km/h or greater to ensure some level of accident mitigation is always present. There are no specific deceleration or crash avoidance criteria if traveling at speeds higher than the proposal's tests, but compliance will be enforced by post-crash investigations.

• AEB must prevent collisions with a lead vehicle that is stopped, slowing or moving more slowly. In the toughest scenarios the subject vehicle is traveling at up to 100km/h toward a target which is either stationary or moving at 20km/h, and testing will assess how responses are affected by manual brake inputs.

• Pedestrian AEB must prevent collisions with a manikin, which can be stationary, crossing from the left or right and following the path of the vehicle at up to 65km/h. Tests will be repeated in daylight and in darkness, the latter using low- and high-beam headlights. However, manufacturers have an extra 12 months to meet low-beam collision avoidance requirements.

• AEB must avoid false positives under two scenarios: driving over a steel trench plate (commonly used in roadworks) and through a 4.5m gap between two stopped cars. The maximum permitted brake response is 0.25g of deceleration force. Vehicles must also issue a visual warning to drivers if the system is not working properly, such as if sensors are saturated by glare or obstructed by snow or fog.
However, with assistance and active safety technology advancing at pace, the IIHS's Aylor believes the biggest gap in NHTSA's proposal is its drawn-out implementation. Rules set a baseline, but the bar could be set even higher, he says.
"In general, I think this is a good step for NHTSA. One of the problems is it's going to be four or five years down the line before the rule will come into force. Many of the manufacturers will already have met some of these standards, based on our testing and others out there. We would have liked the government to go a bit further, especially considering that this rule is not going to take effect for another four or five years." 
This feature was first published in the September 2023 issue of ADAS & Autonomous Vehicle International magazine – you can find our full magazine archive, here. All magazines are free to read. Read the article in its original format here.