UK-based Moshon Data has sold its first RadViz product, which it says prevents lorries crashing into highway maintenance vehicles, to transport infrastructure specialist, Amey.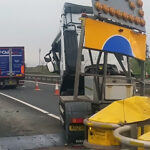 The small and innovative £30 RadViz product was created after Moshon Data worked with the Dutch Highways Agency who investigated why Heavy Goods Vehicles (HGVs) were still striking highway maintenance vehicles despite new models being required to have Automatic Emergency Braking Systems (AEBS) fitted from November 2015.
The research established that unusually shaped vehicles were not detected by the AEBS. By fitting RadViz to these vehicles it significantly improves the detection of approaching vehicles via the radar sensor which is part of the AEBS.
"Our soft targets enable manufacturers to continually test their sensor technology, which in turn, helps to prevent 'real life' accident scenarios," explained Steve Boyle, managing director for Moshon Data. "RadViz developed out of the work we did with RDW in Holland and brings our product into a new area that will further improve safety on the roads,"
Jason Clement, fleet supply chain manager at Amey, added: "The safety of our operatives and those using the road network is my main priority. In the last 12 months, we have seen a number of our Impact Protection Vehicles (IPVs) struck by HGVs, so we were keen to investigate further the RadViz system to prevent these highly dangerous incidents. I am delighted that we are now in the process of implementing the Radviz system on to all our traffic management vehicles which have an attenuator fitted (crash cushion). Due to the size and shape of these vehicles, we've identified that they will gain maximum benefit from using this technology in preventing vehicle strikes."
Following the success of the research and trial of RadViz, the Dutch agency have now mandated that all vehicles completing highway maintenance must have a product of this type fitted to its vehicles.
Established in 2013, Moshon Data specialises in manufacturing a range of soft targets which represent real-world vehicles or roadside items. These soft targets allow car manufactures to test their safety sensor technology in a safe and controlled environment, before the vehicles make it onto the road for public use.
Moshon Data was the winner of the 2020 Hardware Innovation Award from Automotive Testing Technology International magazine for its Night Environment Simulation Tunnel product, targeted at the automotive testing market.