The reveal of its Level 4 autonomous shuttle at CES at the beginning of 2023 hasn't stopped ZF continuing to develop shuttles for segregated lanes. Now it has expanded its partnership with Oceaneering and ZF has given its strategic partner the license for the production and exclusive sales rights of its Group Rapid Transport (GTR) Gen 3 shuttle.
ZF says its segregated lane shuttles have now driven over 100,000,000km autonomously in real traffic, transported more than 14,000,000 passengers and achieved uptime performance of over 99%. The latest is its Gen 3 which has already been operating in Rivium in the Netherlands since its unconditional release in 2022.
Oceaneering has been working with 2getthere, a ZF company, for more than 30 years, collaborating in design, development and advancement of automated shuttle systems serving entertainment venues such as theme parks, worldwide. Now the two companies plan to bring their autonomous shuttles to the US market.
"This partnership is a logical and important step in the right direction toward our goal of a clean and safe mobility that is automated, comfortable and affordable, for everyone and everywhere," said Alexander Makowski (below right), senior vice president, Product Line Autonomous Mobility, ZF. "For shaping urban mobility of the future, autonomous shuttles are a key answer to reduce traffic, number of vehicles and emissions."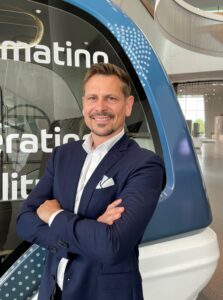 Oceaneering will serve enterprises, cities and municipalities seeking to enhance their mobility ecosystem and move people and goods through autonomous transportation, and the partners are already working on several potential business opportunities in the fields of airports and theme parks.
"Leveraging our proven technology delivery expertise, Oceaneering can further build upon our three-decade-long relationship with ZF to offer complete, integrated technology systems projects for our customers," said Dave Mauck, vice president and general manager, Oceaneering Entertainment Systems.
"With our state-of-the-art production, integration, and testing facilities, Oceaneering serves as the glue that brings whole projects together, ensuring that all customer requirements and regulations are met and delivered to expectations."