The technologies to enable and accelerate end-to-end autonomous and ADAS applications – including testing tools, simulation, software, sensing and AI – just keep coming at ADAS & Autonomous Vehicle Technology Expo in Stuttgart…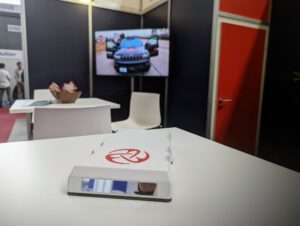 MicroVision unveils new lidar product line to enable high-speed highway safety features
MicroVision is in Stuttgart to introduce its new generation of sensors, developed with an OEM-friendly design to enable high-speed highway safety features. The MAVIN DR is a dynamic-view lidar system that will enable new ADAS safety features, meeting the need to see further with greater clarity and respond more quickly to emerging situations.
MAVIN DR is the fourth lidar hardware variant from MicroVision, a leader in MEMS-based solid-state automotive lidar and ADAS solutions. It is the first sensor to offer a dynamic range, combining short-, medium- and long-range sensing and fields of view into one form factor. The new lidar produces an ultra-high-resolution point cloud showing driveable and non-driveable areas of the road ahead. According to the company, the low-latency point cloud (30Hz) means the MAVIN product line allows ADAS systems to respond more quickly and take action at high speeds.
"Our goal is always to provide OEMs with technology that presents the most complete and detailed picture of the road ahead. With our short-, medium- and long-range lidar sensors combined into one hardware unit, we can provide the most comprehensive and dynamic view of the road ahead at highway speeds," explained Sumit Sharma, the CEO of MicroVision. "We are proud to unveil a sensor that we believe meets or exceeds OEM expectations."
In addition to the dynamic view system, the MAVIN DR has a new hardware form factor that complements OEM designs. The newly refined form factor enables even more flexible deployment options. The hardware is built with materials known to OEM supply chains, which MicroVision says are scalable and easy to source and support a lower cost structure.
High-resolution digital lidar for superior 3D perception in all weather conditions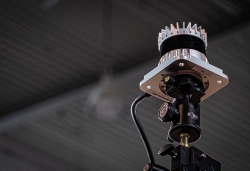 At this year's ADAS & Autonomous Vehicle Technology Expo in Stuttgart, Ouster is showcasing its newest OS sensor hardware release, Rev 06. Powered by the company's new L2X chip and equipped with the latest firmware that offers full dual-return capabilities and doubles the signal processing power of all its OS sensors, Rev 06 provides superior 3D perception through fog, rain, dust and snow.
Richer point cloud data coupled with IP68/69K ruggedness and automotive-grade shock and vibration specifications enable the sensors to deliver high-performance 3D perception in all weather and terrain conditions. According to Ouster, this makes them the most rugged and reliable lidars it has ever designed, perfectly suited for the harshest driving environments.
Earlier this year, Ouster introduced its Digital Flash (DF) series: a suite of short-, mid- and long-range solid-state digital lidar sensors that provide uniform precision imaging without motion blur across an entire field of view. With no moving parts, the DF series is built for best-in-class reliability, durability and affordability. It is designed to meet auto-maker requirements for ADAS and automated driving while seamlessly integrating into the vehicle architecture and design. The company's DF sensors are capable of high-resolution perception of 10% reflectivity objects at 200m, a first in the industry for flash lidar technology and a critical breakthrough for all automotive lidar.
Ouster revealed at the expo that it continuously improves the functional performance of its sensors through chipset tape-outs and over-the-air firmware updates. It currently offers the industry's only standard two-year warranty for high-performance lidar across its entire OS product suite. With every product upgrade, the company makes it easier to integrate its sensors into new or existing automotive platforms.
The OS series offers over 75 SKUs with just three sensors – OS0, OS1, OS2 – all built on a single digital architecture. According to Ouster representatives, the company's digital lidar vastly improves on analog lidar in size, weight, form factor, power efficiency and weather durability. The OS sensors offer up to 128 channels of resolution for short, mid and long range along with ultra-wide vertical field-of-view and shorter minimum range configurations to support a wide variety of automotive use cases.
Founded in 2015, Ouster is a leading provider of high-resolution digital lidar sensors for the automotive, industrial, robotics and smart infrastructure verticals. Its sensors can be found on applications ranging from autonomous shuttles and buses, trucks, mining vehicles, cranes and warehouse robots to street sweepers, drones and last-mile delivery vehicles. The company says it offers an excellent combination of price and performance with products built to meet a set of requirements that are flexible enough to span hundreds of use cases and enable revolutionary autonomy across industries.