Cockpit-5G technology from the University of Warwick in the UK uses crowd blackspot intelligence for real-time identification of areas that need to be serviced with the fifth-generation network.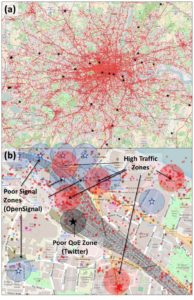 The project has been awarded a £210,000 (US$274,000) grant by Innovate UK's Geospatial Commission to undertake research into where signal blackspots are in the UK and to roll out 5G to improve both urban and rural coverage.
The team will work in real time to identify blackspots. This has the potential to revolutionize the future digital economy, which depends on mobile broadband services, and is critical to ensuring connectivity across a wide range of social and industrial sectors, including driverless cars and manufacturing.
"Cockpit-5G will enable the UK to be a world leader in new technologies by helping provide 5G coverage in blackspots. Businesses will be better connected, which in turn improves manufacturing, and we can enhance AI and the development of autonomous vehicles," said Dr Weisi Guo of the School of Engineering at the University of Warwick.
(The illustration is from "Uncovering Wireless Blackspots using Twitter Data," W. Guo, J. Zhang, IET Electronics Letters, vol. 53(12), pp 814-816, Apr 2017)