An electric luxury car concept capable of Level 4 automation has been presented by Aston Martin. The company says production of the Lagonda Vision Concept is planned to commence in 2021.
"Our new concept shows the scope of design opportunities that open up once you no longer need to provide space for a large power source directly in front of the passenger compartment," said Marek Reichman, EVP and chief creative officer at Aston Martin. "The batteries occupy the floor of the car. Everything above that line belongs to us."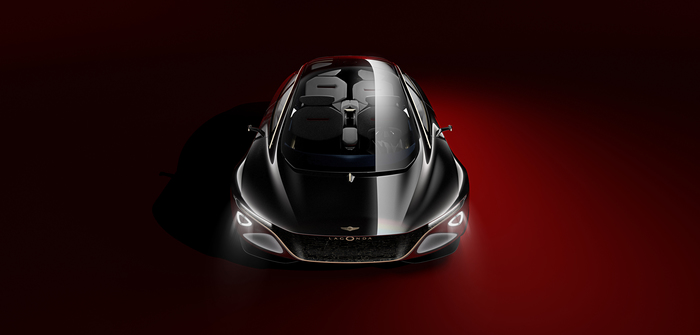 Although it is both far shorter and lower than traditional limousines, there is room inside for four adults, each of 2m height or more. Because the majority of the car's structural strength comes through its floor, it has been possible to use apertures in the body far larger than would be wise in conventional cars. As a result, the rear hinged back doors don't just open outwards, the roof sections also open upwards. Occupants can stand up inside and walk out of the car, or step straight into it. Similarly, the front seats are not mounted on conventional runners which might encroach on foot space for back-seat passengers, but instead sit on cantilevered arms extending from the floor outside the seat frame.
The concept is designed for Level 4 autonomous driving, meaning the car is capable of driving itself in all routine circumstances and on all recognisable roads. The steering wheel can not only move from left to right hand drive, but in autonomous mode it can also retract entirely allowing front seat passengers to rotate 180° to face those in the back. The car will not only have 360° awareness of the world around it, but also be fully connected to it, allowing occupants access to bespoke concierge services and connectivity.
"For owners of true luxury cars, autonomy has existed for over a century, in a carbon-based form called a chauffeur," said Dr Andy Palmer, president and CEO at Aston Martin. "We imagine most Lagonda customers will choose to be driven, but whether by a person or a computer will be up to them."
The concept has been configured to accept powerful solid-state electric batteries enabling it to cover up to 400 real world miles between charges. It is designed to be compatible with the latest wireless conductive charging technology.
The car makes full use of Aston Martin's experience in multi-material bonding techniques, creating a structure that the company says is very light for an all-electric luxury car, structurally stiff and incredibly space efficient. It will also make the most of its electric drive system to provide intelligent all-wheel drive, capable of delivering anything from 0-100% of available torque to any given wheel according to demand.