In a newly formed strategic collaboration, Porsche and Mobileye will work together to deliver series production ADAS solutions. For future models, the German OEM intends to provide automated assistance and navigate-on-pilot functions based on Mobileye's SuperVision technology platform.
SuperVision enables drivers to take their hands off the steering wheel when traveling on different terrains while visually monitoring the vehicle's surroundings, but only if local road laws and traffic situations allow it to do so. Furthermore, the system can be used to make the car follow a driver's set route and carry out autonomous lane changes and automatic overtakes of slower vehicles on multi-lane roads. Eleven cameras monitor the environment around the vehicle, supported by radar fusion perception. Other components include high-resolution maps and the Mobileye EyeQ6 system-on-a-chip.
"Mobileye is one of the world's leading providers of automated driving functions. This technology will help us forge ahead with our strategy of modern, sporty luxury," said Oliver Blume, chairman of the executive board of Porsche. "We are combining an outstanding product with a highly personal experience. The desires and lifestyles of our customers are important to us. We want to exceed expectations again and again – and that's exactly what we're doing with world-class partners like Mobileye."
Porsche will be responsible for integrating SuperVision into its next-generation vehicles, with tuning to be carried out by its engineers. The smart solution that monitors driver attention will also be tuned by Porsche employees.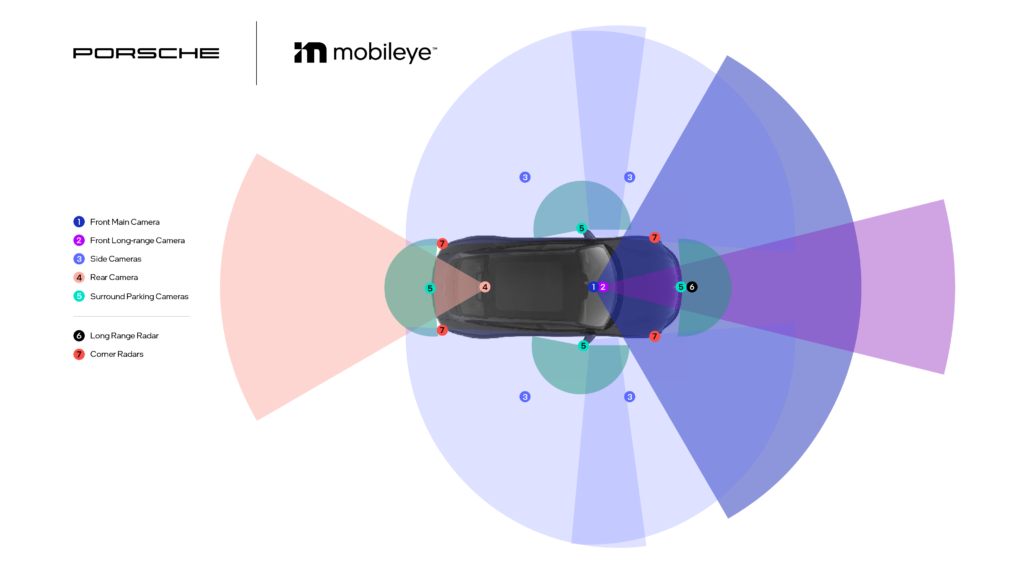 "We are delighted to work together with Porsche to bring the next generation of driving technology to customers around the world," said Prof. Amnon Shashua, president and CEO of Mobileye. "Like Porsche, we are driven by the goal of using technological innovations to improve the driving experience at world-class level. We developed the Mobileye SuperVision system to enhance safety through the synergetic interaction of the driver and the vehicle."
"In most situations, drivers will continue to want to drive a Porsche themselves in the future – and will be able to do so at any time," commented Michael Steiner, board member for research and development at Porsche and head of development at the Volkswagen Group. "This said, there are certain aspects of partially automated driving that we are interested in. Intelligent systems like Mobileye SuperVision technology can aid the driver in everyday situations, for example by not having to keep their hands on the wheel the entire time in traffic jams."
For more on ADAS, please click here.