A range of new technologies have been introduced by location data and technology platform Here Technologies at CES 2023 in Las Vegas, Nevada, for applications within the automotive industry.
Automated Driving Zones for safer autonomous driving systems
The latest cloud-hosted software from the company, Here Automated Driving Zones, has been developed to help vehicle OEMs decide where, when and under which operating conditions it is safe to activate automated driving functionalities within their vehicles.
To ensure that autonomous driving systems are as safe as possible, these systems must only activate when outside conditions enable them to. This requires the definition of Operational Design Domains (ODD), which characterize the operating conditions to ensure automated driving systems operate properly, recognizing when it is safe for drivers to take their hands off the wheel or where driverless vehicles are allowed to drive.
Through the use of Here Automated Driving Zones, OEMs can define individual ODDs for their own cars' automated driving functionalities. The new solution works in partnership with Here's HD and SD map content. In addition, Here Automated Driving Zones integrates dynamic location services from Here for real-time traffic information and road hazards. OEMs can use the software to set both the geographic environment where automated driving functionality can be activated and also the conditions which must be present on the road. With Here Automated Driving Zones OEMs can create, edit and review an ODD either manually or automatically.
At present, Here Automated Driving Zones is being utilized in the current development, validation and production of automated driving capabilities for two global OEMs.
"Here Automated Driving Zones is another example for the critical importance of accurate and dynamic location technology to enable safe autonomous driving", said Giovanni Lanfranchi, senior vice president and chief product and technology Officer at Here Technologies. "Location technology is both needed for defining the areas where automated driving is possible as well as for operating an automated vehicle safely within those boundaries."
Predicting the availability of EV charge points
A new service from Here is capable of predicting the likelihood of an EV public charge point being available in the future.
As the adoption of EVs increases, so too does the demand for charging infrastructure and subsequent solutions to help drivers who aim to make time spent charging more efficient.
The charge point prediction feature incorporates both EV infrastructure supply and real-world user demand, in addition to factoring in variables such as weather, time and day. The company's latest solution supplements its existing Here EV Charge Points which has already been deployed globally with a multitude of OEMs.
The prediction capability of Here EV Charge Points is powered by an applied machine learning (ML) algorithm which weights GPS probes, vehicle sensor data and correlated historical time/day, weather and traffic pattern data. This enables Here to have a granular view of EV charge point user patterns and surrounding traffic conditions. The volume of real-world data provides a virtuous loop of ML training data, enabling Here to continually improve the prediction service.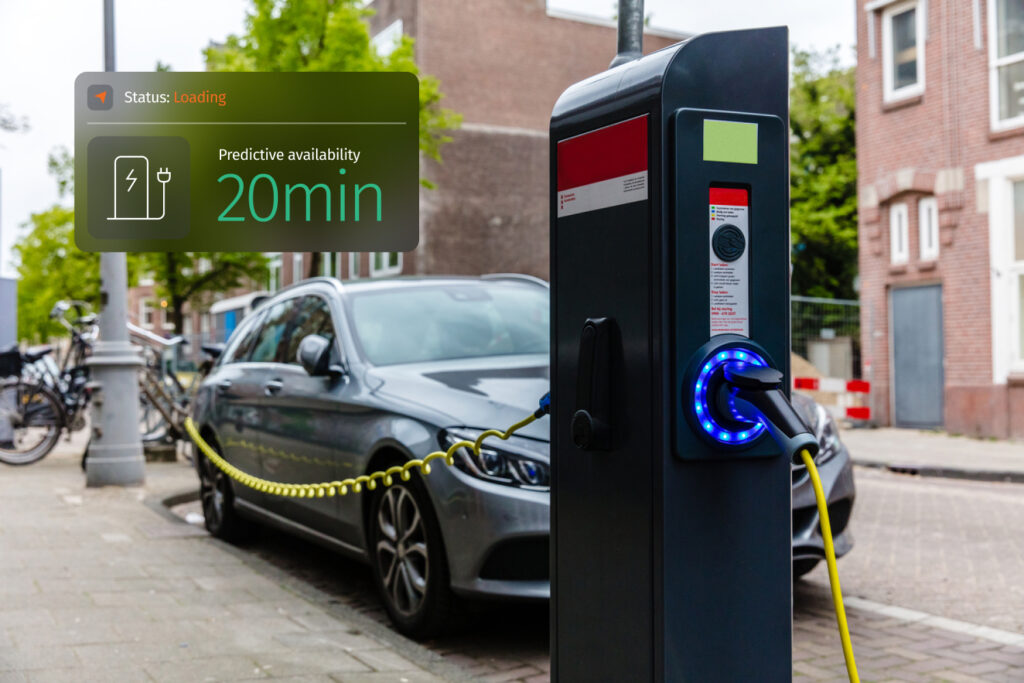 "EV drivers are navigating a patchwork of infrastructure, with various plug types, pricing and little understanding of when a charge point is occupied," said Chris Handley, vice president of dynamic spatial content at Here Technologies. "This feature is focused on delivering a much-needed tool for EV drivers to more confidently plan their day and waste less time on charging."
Here Road Alerts warns drivers of upcoming hazards
Here has also launched Here Road Alerts, a cloud-based service which combines rich vehicle sensor data from millions of cars on the road with traffic incident data to provide real-time hazard warnings to drivers for optimal safety assistance.
Here's Road Alerts solution provides drivers with accurate information about hazards on roadways to inform better and safer driving decisions. The service works to enhance the functionality of ADAS for improved safety, in addition to building a driver's trust in increasing levels of automated driving functions.
An array of hazards are covered by Road Alerts and include notifications and warnings for roadworks, accidents, broken down vehicles, reduced visibility and slippery roads among many others. By covering these hazards, Road Alerts helps OEMs to reach higher New Car Assessment Program (NCAP) scores.
To ensure that the system detects and reports as many hazards as possible, a large pool of different sources are used. These consist of vehicle sensor data from millions of cars on the road and billions of GPS data points from vehicles and devices from over 150 different probe data providers. Further information is provided by governmental road authorities and local in-country news sources. The service is delivered with low latency to ensure drivers are kept up to date on the latest hazards.
"Here Road Alerts is a fully comprehensive hazard warning service," said Lanfranchi. "Where others may rely only on a limited number of data sources, we process data from a broad variety. More sources ultimately lead to an enriched service with greater coverage and more accuracy. This is the next step on our long-standing mission to increase the safety of millions of road users."